CELEBRATING 188 Yrs!!!!!
IMPORTANT INFORMATION:
Grad Save The Date 2023: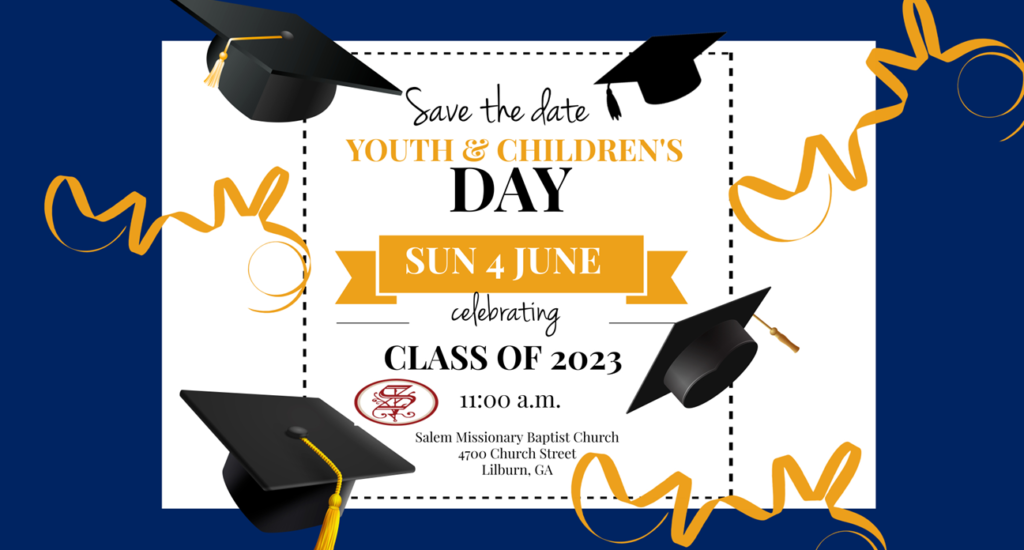 General Information
ALL ANNOUNCEMENTS ARE DUE Wednesday by 5:00pm. Please send announcements to info@thechurchwithzeal.org.
For more information or help with this process please feel free to call the church office at 770-923-3936.
CELL ANNOUNCEMENTS
Salem North
Salem South
Salem East
Salem West
CHRISTIAN EDUCATION
Stay up to date with our Christian Education schedule.
Sunday and Wednesday Handouts
All Sunday, Wednesday Mid-Day and Evening Bible Study handouts are now
available on the Church Website.
The web page is the church events page https://www.thechurchwithzeal.org/news-events/events/.
WAYS TO GIVE
Phone App: Givelify App (search for Church name)
CashApp — $thechurchwithzeal
Website: www.TheChurchWithZeal.org/give
Mail: Salem Missionary Baptist Church, PO Box 817 ,Lilburn, GA 30048
Church Office Dropoff: Tuesday thru Friday from 10am-5:00pm
COMMUNITY SERVICE NEWS
SMBC FOOD PANTRY
The Food Pantry at Salem Missionary Baptist Church is one of our Outreach Ministries that seeks to create a hunger free community by sharing our abundant blessings with anyone in need.
New Hours: Tuesday's:1:30PM – 4:00PM Saturday's: 9:00AM – 11:30AM
For additional information, please feel free to contact the church office at: 770-923-3936.
Stephen Ministry
Salem Stephen Ministry continues to walk with individuals facing life's challenges.
This ministry has also answered the clarion call for special work during the pandemic.
The Stephen Ministry provides quarterly Covid Care Packages to our seniors.
These packages include masks, hand sanitizer, disinfectant spray, toiletries, books and games.
Grief Share
To Register for Griefshare please click on link: Register for Salem MBC Griefshare
Grief Share sessions have begun. These weekly group sessions are designed for those learning to cope with the loss of a loved one. The loss may be recent or in years past.
The program helps individuals to move on through life while journeying through the grief.
All sessions are open to the community.